The host hotel for the event will be the
CROWNE PLAZA HOTEL in Mission Valley.
2270 Hotel Circle North San Diego, CA 92108
TEL: (619) 297-1101 FAX: (619) 297-6409
Email: sales@cp-sandiego.com
The hotel is not able to accept reservations sooner than 11 months prior to the event,
so to be conservative please call after November 1, 2017,
and mention that you are with the National T-bucket Alliance group.
PLEASE NOTE: Room reservations must be made PRIOR TO 7/26/2018 in order to receive the NTBA rate.
Rooms are $112.00 per night, that rate starting on Monday, Sept. 10,
and will include Free Buffet Breakfast daily for up to 2 people per room.
The official event is for Thursday through Saturday, but please come early if you can.
We will have cruises and such planned for the days prior as well.
NTBA members in good standing will have FREE entry to the Fun Run event,
however we also invite NON-MEMBERS to attend for FREE as well.
Everyone will be required to register, but there is no registration fee.
Instead, we are expecting to provide entertainment and an environment valuable enough
to cause everyone who has come as our guest to want to join us permanently.
A Downloadable Registration Form is available, and will only take a few minutes of your time.
You may download the print version of the form HERE,
just print it using your browser and mail it to the address on the bottom of the page.
Need us to mail you a form? Kathy Hall (858) 997-9236. Email: Kathy
Should you wish to download copies of the 2018 Fun Run Flyer they may be found HERE.
The flyer contains basic information about the Fun Run, as well as contact information
that you may use if you have any problems with the forms, have questions, or just want to chat.
Should they choose, non-NTBA members may go to the NTBA website
to become a member of the national organization,
and/or speak with one of the current So-Cal T's members to join that group,
however neither of these is a requirement of the event.
For those of you who need Recreational Vehicle parking or storage information, please click HERE.
If you are having problems with the form(s), have questions or any other issues please contact
Kathy Hall (858) 997-9236. If calling collect conversations must be limited to two or three hours.
Email: Kathy
Cruises and attractions may have associated costs which will be the entrant's responsibility.

AGAIN: Room reservations must be made PRIOR TO 7/26/2018 in order to receive the NTBA rate.
Preliminary Schedule of Events
Saturday, Sept. 15
We will be parked on the grass at the water's edge. If you drive 15' forward from your parking spot your hat will float.
The Embarcadero park is next to Seaport Village. Here there are shops, restaurants, sailboats, sidewalk entertainers,
and a host of other attractions and ways to part with your hard earned plastic.
There is also plenty of shade for those who just want to relax in their chairs and chat with old friends
or converse with the many tourists and other passersby.
We will spend the day here, but one day is not enough to see everything
the Embarcadero and Seaport Village have to offer.
Friday, Sept. 14
We will start the day with a Poker Run.

After the Poker Run we will break so everyone can have lunch.

Around 3:00 in the afternoon we will depart for Cruisin' Grand in Escondido, arriving there in about 45 minutes.
From 4:00 to 8:30 every Friday evening during the months of April through September the city of Escondido
hosts an impromptu car show that always attracts 400 or more local pre-'74 hotrods and several thousand spectators.
Hopefully we will push the hotrod attendance to over 500.
Reserved parking for T-buckets has been pre-arranged so we can all be together,
should be a nice treat for all the Cruisin' Grand visitors and other hotrod owners.
Again, there are shops, restaurants, and of course kettle corn and ice cream.
Thursday, Sept. 13
In the morning we will hold a Lipstick Run for the ladies.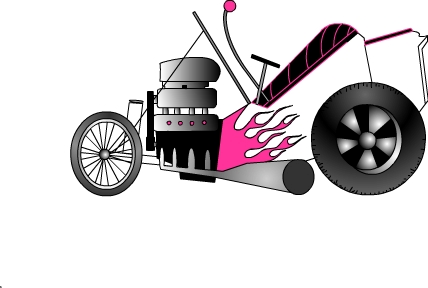 When they return, we will cruise out to the end of Point Loma and stop at the
Cabrillo National Monument and Historic Point Loma Lighthouse.
From here you can see the entire San Diego Bay, the city coastline, and as far south as Mexico.
To the north the view of the coast and beach cities is just as spectacular.
We will remain here for an hour or so and then cruise back to the hotel,
following the edge of the bay to Pacific Highway.
In the evening we plan a dinner cruise to Old Town San Diego.
Old Town San Diego has many attractions, from museums and churches to shops and restaurants.
There will certainly be plenty to see and do, and maybe even a margarita for the designated passenger.
We will cruise over to Old Town as a group, but everyone can browse at their own pace
and return whenever they choose. We will provide written directions for travel both ways,
but it is only about 2 miles from your dinner plate back to the hotel.
Wednesday, Sept. 12
We will start by cruising down Pacific Highway to Harbor Drive, and then south along the eastern side of San Diego Bay.
At the southern end of the bay we are going to turn north and come back up the west side on the Silver Strand.
We will continue on to the City of Coronado, and stop at the Coronado Ferry Landing for lunch.
There are restaurants and shopping, places to put your chair and watch the sailboats,
you can wiggle your toes in the bay to cool off,
or if you prefer to cool from the inside out, Cold Stone Creamery will fix you right up.
Coronado is basically Orange Avenue in the middle, with First through Tenth Avenues crossing it,
it's pretty hard to get lost. Nevertheless, we will provide directions
or possibly maps for those who would like to stay and explore.
We will return by going across the Bay Bridge

Tuesday, Sept. 11
In the early afternoon we are going to drive up the Coast Highway through
La Jolla, Del Mar, Solana Beach, Cardiff-by-the-Sea, Encinitas, Leucadia, Carlsbad and eventually to Oceanside.
We will cruise through the Oceanside Harbor and then return back down the coast passing the
Oceanside Pier and eventually stopping at Tio Leo's Restaurant on Valley Centre Drive in Del Mar for dinner.
Monday, Sept. 10
We will take a short cruise around Shelter Island and Harbor Island
to give everyone a look at the San Diego Bay, sailboats, yachts and other scenery.
If everyone desires, we can stop at one of the deli's or restaurants on Harbor Island for lunch.
---
For those who want to venture off on their own, San Diego has enough places to go
and things to do to keep you occupied and entertained for years.
The county is composed of more than 100 unique neighborhoods, each with it's own distinct personality.
There is La Jolla, Pacific Beach, Mission Beach, The Gaslamp, North Park, Little Italy, Old Town,
Mission Hills, Coronado, just to name a few and all are waiting to be explored.
You can go to SeaWorld, The San Diego Zoo, San Diego Zoo Safari Park, Birch Aquarium,
Balboa Park and Museums, LegoLand, Aquatica Water Park, Petco Park and so many more.
There are even numerous dog beaches where you can take Fido for a romp in the surf.
For a better description of what our city has to offer,
please take a look at the Things to do in San Diego.
There are even more ideas in the current San Diego Magazine online,
or if you would like to have a copy of the official Visitor's Planning Guide,
click HERE to have one mailed to you.
For dining outside the hotel, the closest restaurant is the Hunter Steakhouse.
Here is a partial listing of the Fashion Valley Restaurants which include
The Cheesecake Factory, PF Chang's China Bistro, California Pizza Kitchen,
Stacked Well Built, Love Boat Sushi and twelve bistro cafes.
Here is a listing of other Mission Valley Restaurants
that will be close to the hotel.
All of us, are very much looking forward to seeing you in San Diego
for the 2018 NTBA / So-Cal T's Fun Run.
We know that this will be a lot of fun for everyone who can attend,
and we certainly are excited about the prospect of hosting you in "America's Finest City".